Carbon
Design Has Power
Wildline exists to make beautiful things that inspire our clients and our communities and to make the world a better place for all living beings. We're driven by an ongoing reflection of architecture's role as an agent of regeneration, how our work is a lens through which we can better understand our connection to place and how we can leverage the power of design to create meaningful change.
We acknowledge the uncomfortable truth that building plays a significant role in the acceleration of carbon loading in the earth's atmosphere. We strive to reduce its negative impact through efficient design, preferencing local and plant based materials and innovating in all aspects of the work. We approach every project and every relationship as an opportunity to improve how we do the work for the future benefit of sentient and non-sentient beings alike.
According to a 2021 report published by the Global Alliance for Buildings and Construction, buildings were shown to generate 37% of annual global C02 emissions. Building energy use is responsible for 27% and embodied carbon emissions (resulting from the harvesting, manufacture, and transport of building materials) claims the remaining 10%. Unlike operational carbon emissions, which may be addressed by converting to renewable energy sources, embodied carbon emissions are locked in place as soon as a building is constructed. At Wildline, we design to minimize your future building's carbon footprint by providing design options with low carbon impact in all phases of the work.
We start with climate and site-responsive form-making. This manifests in elegantly simple shapes that efficiently nest all of your program elements while connecting the users to the site. We then thoughtfully place windows in a robust envelope that prioritizes the use of plant based materials. We suggest high performance mechanical systems, lighting and appliances that align with our clients' budgets. These choices will serve to reduce the overall energy demand. We then take a careful look at the embodied carbon balance sheet and suggest exterior and interior finishes like climate friendly wood, low carbon concrete, locally available materials and plant based finishes. We prioritize the use of products with published Environmental Product Declarations (EPDs) that demonstrate low Global Warming Potential (GWP) values.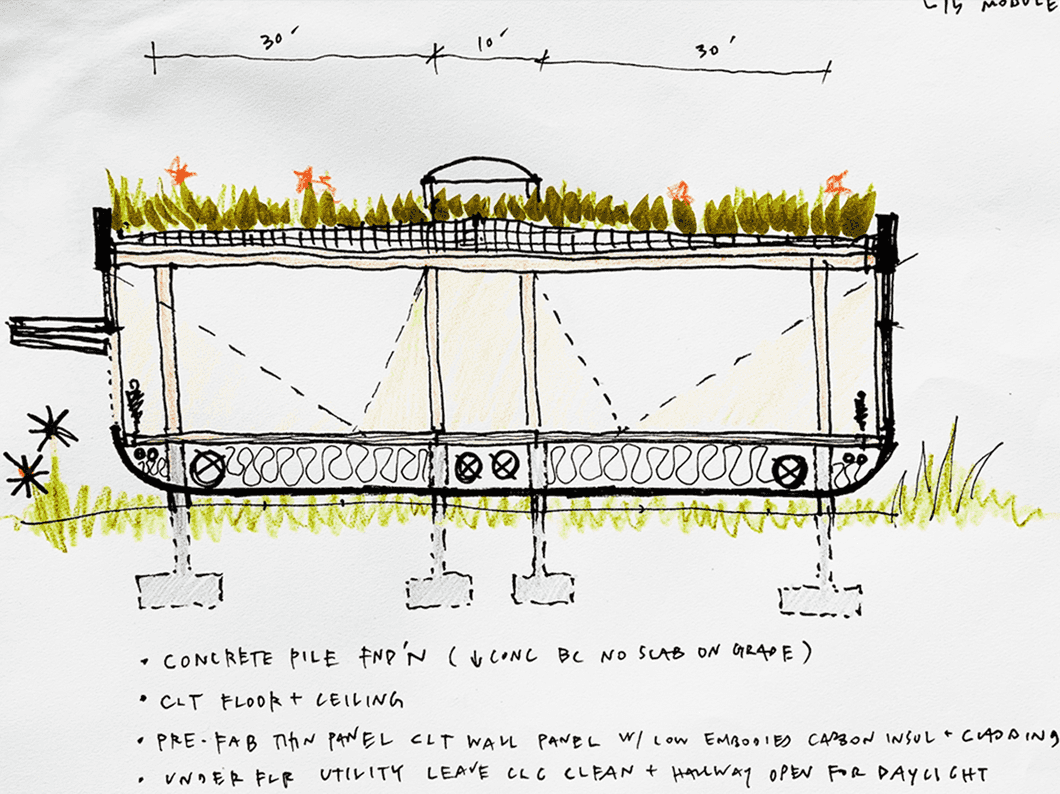 We are actively seeking clients who understand the sphere of influence their project will have and who are looking to collaborate to give back to the planet and give forward to future generations through their place making design decisions.